Lake Michigan Watershed Plan Meeting
The Lake County Stormwater Management Commission (SMC) invites you to attend the next Lake Michigan W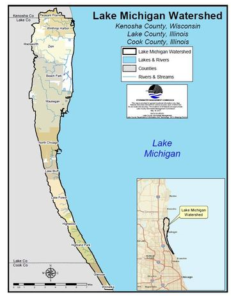 atershed Plan meeting.
We will review watershed issues and opportunities identified during the first meeting and discuss goals and objectives for the watershed plan
If you missed the Kick-off Meeting…
The background, scope, and timetable for the watershed plan were presented and the stakeholder group identified watershed issues and opportunities. The meeting summary including the watershed issues and opportunities and a copy of the presentation from the meeting are posted on the project web page.
If You Can't Make it to the Meeting
Get on the email list for periodic updates and future meeting topics. Choose "Lake Michigan Watershed" under the Stormwater Management section.
For more information, contact:
Mike Prusila
mprusila@lakecountyil.gov
or
Jacob Jozefowski
jjozefowski@lakecountyil.gov
847-377-7700
Funding for this project is provided, in part, by the Illinois Department of Natural Resources Coastal Management Program, the Illinois Environmental Protection Agency through Section 319 of the Clean Water Act, and the Lake County Stormwater Management Commission.