Lake Michigan Watershed Plan Kick-off Meeting
April 24 @ 7:00 pm

-

9:00 pm

Free
The Lake County Stormwater Management Commission (SMC) cordially invites you to attend the Lake Michigan Watershed Plan kick-off meeting.
Wednesday, April 24, 2019
2-4 p.m. or 6-8 p.m. (the same information will be presented at both meetings)
Gorton Community Center
400 E. Illinois Road
Lake Forest, Illinois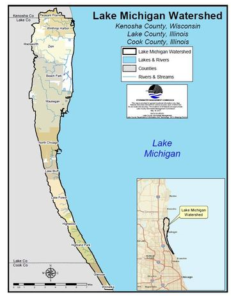 About the Watershed Plan
The Lake Michigan Watershed Plan will cover the portions of Lake County and seven ravines in northern Cook County that drain to Lake Michigan. The planning process will run from 2019-2020. The Lake Michigan Watershed-Based Plan will identify practices, projects, and programs that can be implemented by stakeholders to reduce pollution and flood damage and protect natural resources. Your input and ideas are important.
Click here for a fact sheet on the watershed and watershed plan.
About the Kick-off Meeting
The background, scope, and timetable for the watershed plan will be presented at the meeting. In addition, SMC will meet with local stakeholders and help the group identify watershed issues or opportunities. We hope you will join and assist us in the planning process so that your community or organizational needs are adequately represented in the watershed plan.
If You Can't Make it to the Kick-off Meeting
Get on the email list for periodic updates and future meeting topics. Choose "Lake Michigan Watershed" under the Stormwater Management section.
View the project web page.
Contact:
Mike Prusila
mprusila@lakecountyil.gov
or
Jacob Jozefowski
jjozefowski@lakecountyil.gov